One beautifully sunny, but cold day this week, we were stuck inside due to another round of colds.
Mia was soaking in the sunshine and dreaming of time outside, as she stood at the sliding glass door.
When I noticed her, she was slightly behind the curtain and I asked her if she was playing peek-a-boo.
She responded, "pea-boo".
Austin took that as an immediate invitation to join in the fun.
Soon there was belly laughter from both kids as they used the curtain to play together.
It made my heart smile to see them having such simple fun.
Especially since they had both been pretty whiny for a couple days because they had raw, runny noses and generally didn't feel good.
Though I wasn't suffering from a cold this week, I was suffering from "where-the-heck-is-spring-because-I-am-going-to-lose-what's-left-of-my-mind" syndrome.
So I needed that dose of fun and laughter even more than they did.
One thing I was reminded of this week, is that even on the toughest days in the most frustrating weeks, God gives me moments with my sweet children that make it all worth it.
I am truly blessed by every smile, snuggle, laugh, new word, milestone, "I love you" and a million more little things.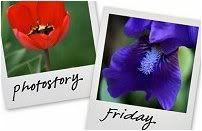 Hosted by Cecily and MamaGeek