Once upon a time there was a Mommy who was desperate to get the perfect Christmas picture of her two little darlings.
On her first attempt to capture this elusive shot, she dressed the children in their Christmas clothes and the baby spit up all over the front of her outfit. The boy refused all bribes and so no pictures were taken because the mommy could see that things weren't headed in a good direction.
On the second attempt the boy was more cooperative and the baby didn't get sick on herself, but looking at the camera was not on the agenda.
The baby was obsessed with touching the boy and he was only briefly okay with that.
Soon the boy began to cry after having his face scratched and so the mommy resigned herself to yet another failed attempt.
However, she realized that the baby still seemed somewhat cooperative and so she plugged away.
The Mommy was pleased with some of her success with the baby, but the desire of getting the perfect Christmas picture was still unfulfilled. So, she tried yet again with a few props.
Again the baby was intrigued by her brother's face and all its parts.
And, on several occasions she had to display her newly learned skill of "soooo big."
The children took turns being cooperative.
The Mommy finally realized that the perfect picture she had envisioned in her mind was not, in fact, the best way to communicate the joy of her household. The love and happiness was found in pictures she had already taken.
And so the Mommy was content with her Christmas pictures and proudly displayed them for all her family and friends to see. Perfection she discovered was simply a matter of perspective.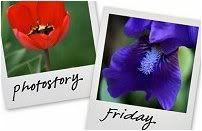 Hosted by Cecily and MamaGeek