I am "soooo big" and just had my very first Christmas!
Before Christmas day I got to open some presents from family members I wouldn't see at Christmas. My Aunt Lauren and Aunt Bridget got me this Glo Baby and I LOVE it! I have been wanting a baby doll and this one lights up and plays music.
When Christmas morning came, Austin and I rushed out to see what Santa left us. We both loved the gifts we saw in front of the tree.
Mommy had some really cute girlie Christmas jammies for me, but I was so excited about Christmas morning that I pooped straight up my back before I even got out of bed. Thankfully, Mommy had some backup jammies from when Austin was a baby.
Before breakfast I got to open my stocking. I didn't get any candy like Austin, but I did get a baby doll and a stuffed snowman.
When it was time to open presents I was so excited! Mommy didn't think I would really be into Christmas this year, but she was WRONG. When they gave me my presents I held one in my left arm while I opened another one with my right hand. I never let go of that other present. I was afraid Austin might think it was his and take it from me.
I got a new cell phone. I must be a big girl now! My phone is better than Mommy's because it plays fun songs and makes better noises when you push the buttons.
After opening each gift, I took some time to eat the wrapping paper. I love eating paper!
Did I mention that I really love my new cell phone? I might also want to mention that I am teething, so please excuse the enormous wet area on my clothes.
Austin was happy to come and help me play with my new toys. I didn't mind. I am good at sharing so far. We have fun playing together.
I like these cup things that Mommy and Daddy got me. I am not really sure what they are for yet, but I like pretending that I am drinking out of them.
My favorite gift by far was the Superstar Stage that Nana got me. You should see me with my microphone when the music is playing. I have to say that I am one fabulous superstar.
I loved Christmas! It was so much fun.
Next up....my 1st birthday.
Only 27 more days...not that I am counting.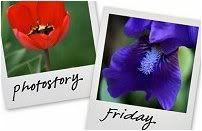 Hosted by Cecily and MamaGeek