When we arrived at Nana's house for Christmas, it was dark. Upon waking up in the morning and starting to get his bearings on things, Austin looked out the window and immediately spotted it.
Nana's tractor.
It was a VERY cold day, but Nana wanted to take him for a ride as much as Austin wanted to go. After breakfast Nana put on about ten layers of clothing, Austin was bundled up and they headed out. Unfortunately, the tractor needed gas and so the wait was longer than expected, but Austin was so excited he didn't care.
He quickly wanted to be a part of the experience and not just a passenger. Nana showed him how to lift the bucket on the front and he was thrilled.
He seemed a little annoyed that I was taking pictures because he wanted to concentrate on the task at hand. Smiling at the camera was not on the agenda!
They weren't going very fast at all and Nana let him "drive" around the yard for awhile. I guarantee he is still having dreams about driving that tractor.
He is a tractor nut and though he has gotten to sit on idle tractors or ride on lawnmower tractors, this was a much grander experience. The fact that it was Nana's tractor made it that much more special.
It didn't take him long at all to know exactly what to do. At nearly three years old he was an old pro.
It was a memory that he and Nana will never forget. He is eager to go back and drive the tractor some more. Unfortunately, it will probably have to wait until Spring when the weather is a little more predictable.
For me, it was such a joy to see my mom and my son not only enjoying themselves, but bonding in a way that only a loving Nana and her sweet grandson can.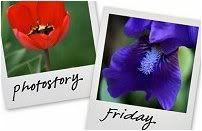 Hosted by Cecily and MamaGeek