These little trucks bring joy to my little guy's life. But, the real thing makes him downright giddy.
Austin's Uncle Ian and Aunt Leah got him (and Daddy) tickets to Monster Jam for his birthday.
Sunday was the big day.
Here he is all ready to go, with appropriate attire and his favorite loud event headphones.
He took one of his trucks and eagerly waited for the show to start. Unfortunately, he wasn't wearing his headphones as he waited and when the trucks started revving, signaling that the show was about to begin, the noise scared him and he started to cry.
He got over it pretty quickly though when he started to watch the action. (Popcorn helped too!)
He loved all the stunts and mini races.
He loved the popcorn too! Mark said that he was just shoveling it in with his eyes fixed on the trucks. It was one smooth, constant motion.
There were not just monster trucks doing all of their tricks, but motorcycle stunts too. Unfortunately, those pictures didn't come out. He had a great time watching all of it.
Mark tried to get a picture of him smiling at the camera, but he would NOT take his eyes off the trucks.
He has been making loud revving noises all week. Those are usually followed by the him saying in a low, growly voice, "have a Monster Jaaaaam birthday."
It truly was the perfect gift!
Thanks Ian and Leah!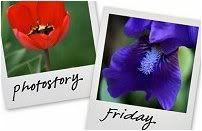 Hosted by Cecily and MamaGeek