It's finally here....Spring.
Today we walked out of the house and into the bright sunshine with a bounce in our steps (except Mia who is still refusing to walk). We headed to the playground to meet some friends for a picnic. It was gorgeous, and if the kids would not have eventually melted down due to lack of napping, we would have stayed all day. The next few days are supposed to be even nicer.
We have waited a long time for this.
I was reminded, as both of my kids were enjoying their time on the swings, of the sheer joy of being at the playground as a kid.
I too loved to swing.
I vividly remember the feeling of the wind flowing through my long hair, the sun shining on my face as I would lean back to pump my legs taking me higher and higher, the way my mind would wander as I daydreamed of happy, pretty things and the wonderful feeling of "flying."
I couldn't help but smile as I watched my precious children enjoying this shared simple pleasure.
I love this time of year and all that it brings.
Renewal, blossoming, warmth, color...and swinging.
Today the park was busy and swinging was not something I had the chance to do (unless I would have fought a preschooler for one), but believe me it will happen soon.
My giveaway ends tomorrow at midnight, so don't forget to enter
here
.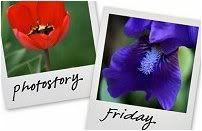 Hosted by Cecily and MamaGeek