On the way down to the Outer Banks we pass the home of "Grave Digger" the monster truck. Over the last couple years it has changed from an old monster truck sitting in a grassy area with "no climbing" signs on it, to a tourist attraction.
Everything there is big

huge

and Austin can hardly contain himself he gets so excited. As soon as he spots it, he starts wiggling in his car seat and saying, "I need out pleeeease. Out pleeeease!"


He often just stands in awe of the enormity of the trucks and we wonder exactly what is going through his little mind.
I am not kidding when I say he could stand and stare at those trucks all day.
He is absolutely mesmerized by all the stuff (awesome mechanical term right?) under the belly of the beasts. Our boy loves monster trucks...not in a redneck way (though I have nothing against rednecks)...more in a "fascinated by all things transportation or with wheels" way.
Within the last year they added a gift shop with all sorts of monster truck merchandise. The last time we were there, in May, it was closed because the team was at an event. This time we were able to go inside and Austin had fun sitting in the shiny championship chair a good 5 feet off the ground. Honestly, I think he was a bit intimidated and scared at first.
In addition to the gift shop they have also, in the last couple months, added a diner with a surprisingly wonderful crab melt and...
a MONSTER TRUCK RIDE!!! Initially, our plan was just to let him go see the monster truck run the course because he was too little to really appreciate or enjoy riding it. Austin had other plans. "Ride the truck pleeeease Daddy? Mommy, ride the truck pleeease?"
We walked over and discovered that there was a $5 a person fee. Mark asked the attendant at the ticket counter if he would have to pay for Austin since he was only two. She said they would both be charged, but Austin could ride it by himself. I. don't. think. so!!! He may be tall for his age, but he is still only two. So, we forked over the $10 dollars (ugh!) for the boys to ride the monster truck.
Who looks more excited in this picture, Austin or Mark? Boys will be boys!
Anyway, notice the little girl climbing the steps to the truck? She and three of her sisters/cousins joined the ride without a parent. In fact, Mark was the only adult on the ride. (Apparently, at that price, the other parents weren't going to pay to accompany their kids.)
As the truck pulled away from the loading dock Austin was beaming and VERY excited. That is until the four little girls started to scream and cry as the truck went over the first little bump of the course. It scared Austin that they were so upset and he started to cry as well.
Honestly, it was probably the noise of the truck that was scary to the girls because this bump is really not worth losing your mind over. And, Mark said they were losing their minds screaming, crying and asking the driver to stop and take them back to the dock. Of course, the driver could not hear them over the roar of the engine.
Now this is a little more worthy of freaking out. For goodness sakes the truck is going over a bus! By now Mark had calmed Austin down and the girls had resorted to whining since their cries were "ignored."
Mark said the course felt like a roller coaster and was "AWESOME!" He loved it! Mark, I mean. Austin liked it, but was glad to be away from the high pitched screams of scared little girls.
All in all it was a great break from our hours upon hours in the car. Had we known we would be sitting in bumper to bumper traffic for three and half more hours, though at that point we were only an hour away, we would have at least had some ice cream before leaving!
(**Notice he was appropriately dressed for the day in his monster truck t-shirt. I have to hide that shirt and his John Deere tractor shirt or he would insist on wearing them everyday.**)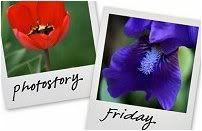 Hosted by Cecily and MamaGeek