Tomorrow is the last day of our brief intermission from day to day life, otherwise known as our vacation. We have been here in the Outer Banks of North Carolina for two weeks.
Our first day here we were rewarded with this beautiful rainbow. I say rewarded because though we live a little over 7 hours away, our trip down was closer to 14 hours. We left around 5 am and arrived about 6:30 pm. About 45 minutes into the trip we hit some really bad weather. That continued for at least a couple hours. Then there were the numerous stops because of eating, gas, nursing Mia, stretching and running toddler legs and bathroom breaks.
We made our typical stop for Austin to see the monster trucks and actually ride one this time. (A post on that later.) That is when things went terribly wrong.
No, no ...the monster trucks were great, but when we left we hit MAJOR traffic. Some was just general Saturday beach traffic, but we also sat through the result of two accidents. It took us over two hours to go 20 miles! When we finally got through that we ran into really nasty weather again. It really did feel like we would never arrive. Fortunately, the kids were being amazingly patient and well behaved for the length of time they were restrained in the car. When we finally did arrive, it rained and stormed terribly for about 20 minutes and then the sun came out and God blessed us with the perfect beauty of the rainbow. I knew that it was His way of reminding me that though the trip was difficult, the reward and blessing of getting to spend two weeks with the loves of my life was worth it.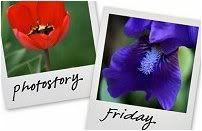 Hosted by Cecily and MamaGeek