I cannot even imagine where I would be today were it not for
that handful of friends who have given me a heart full of joy.
Let's face it, friends make life a lot more fun.
~ Charles R. Swindoll
A few days ago I had the pleasure of getting together with two great friends. We met each other when we were all still teaching and as fate would have it, we all decided to become stay at home moms to our boys who are now friends. Since then, the three of us have also added daughters to our families, and like the boys they are also close in age. We are all in the same playgroup, but with busy summer schedules we haven't gotten to spend much time together in the last few months. So, we planned a trip to take the kids to a local farm which is run by the state park service.
The boys were instantly excited as the first animals they saw were cows. They were able to get up close and personal with a few of them since they were happily lounging in the shade.
What could three boys possibly be looking at down in the grass? I know I don't have to tell you that.
A surprise came when a ranger pulled up and as he did this large momma cow got up from her resting position to reveal a calf. The female calf had just been born two days before and the ranger encouraged the boys to offer a name for her.
Look at that fuzzy little newborn face. Now, seriously, how cute is she?
After ooohing and aaahing over the calf we headed to the barn to see the piglets that had just been born that morning. We obviously hit the farm on a good week.
The pink piglet was one of the ones born that morning. Unfortunately, only two of the piglets in that litter survived so they brought in some other piglets to help the momma and babies out.
The ranger was kind enough to let the boys see one of the older piglets and they even got to pet it. Very exciting!
Then we were off to see the goats. When we first arrived there were some other kids there who were feeding the goats the grass from the "greener side." The boys quickly followed suit and could hardly get enough.
They giggled with excitement over the very attentive goats who were eating from their hands.
I think the goats were the favorite animal that day as we had to visit them twice.
And, of course, it wouldn't be a good farm if there weren't tractors to sit on. Austin is tractor obsessed. He would have sat there all day, but being a good friend he got down and let the other boys have turns. I honestly don't know what we said to them to get them to finally leave that barn.
Visiting the horses was also a lot of fun. We can see horses from our back deck, but Austin never has an opportunity to get this close. He was more than a little intimidated.
My friend Patty and I had both packed carrots in our lunch bags, so we pulled them out and let the boys feed the horses.
Austin was too scared, but Gavin and Sebastian loved it. There was one little horse, which may actually have been some kind of donkey, that was trying hard to get a turn at the carrots. He was getting blocked for awhile, but eventually he managed to squeeze his head through the fence and score a couple carrots. The boys really liked that little guy!
We had a fantastic day and plan to visit the farm again soon.
I can't tell you what a blessing it is to have friends that I love to hang out with. Our boys are friends and love to play together, and we have a chance to look at our sweet daughters and think of all the fun that is ahead when they start to play together. It doesn't get much better than that.
"Friends are the sunshine of life."
~ John Hay
"A friend is someone who reaches out for your hand...and touches your heart." ~ Anonymous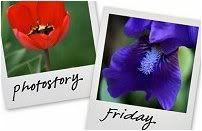 Hosted by Cecily and MamaGeek