One of the highlights of the cooler temperatures that come with fall is the reemergence of hot air balloons. As long as the skies are clear and the winds aren't too high, we get a chance to see them almost every afternoon/evening.
There is nothing like a hot air balloon. I love the way the colors contrast against the sky and how they float with such grace and beauty.
They come really close to our home and sometimes even land in our development.
One time last fall I was running around the house getting ready for a night out with my friends. Mark had put Austin in his highchair to eat his dinner and he was in the kitchen getting himself something to eat. Austin started shouting what sounded like, "a moon, a moon." Mark said, "Yeah, buddy, that's nice", but Austin didn't let up.
I was upstairs and wondered why he was so adamantly and excitedly shouting his repetitive phrase. It was about then that I heard the very distinct sound of a balloon firing. I looked out my bedroom window and the balloon was right there.
We ran out onto the deck and the balloon was so close that we were able to talk to the occupants. They were about to land in the field behind our house. Needless to say, it was the highlight of Austin's month, maybe even fall.
He has become quite an expert in finding them in the sky around our home. It is so much fun to see his simple excitement about these beauties.
**He is actually sitting here as I type this post begging to go outside and find a balloon. So cute!**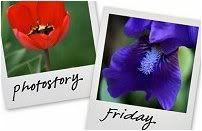 Hosted by Cecily and MamaGeek