There was a morning recently that started like this.
The fog hung heavily and I ached to crawl back under the covers and enjoy the darkened skies with some extra sleep. But, these are the days of young children and sleeping in is a distant memory.
We started the day slow and somewhat quiet, a tone set by the fog I guess.
Before we knew it though, the fog had burned off and we had crisp blue skies and bright sunshine.
For days, Austin had been asking to drive his jeep. It was a moderately strange request since he had yet to master driving it, and usually would just end up frustrated. I guess he must have been contemplating his future success.
So, right before lunch I convinced my husband to take him out and let him give it a try. In the past, he wasn't able to understand that the gas pedal had to be steadily pushed. He would tap the pedal like it was an on switch and the jeep would lurch forward and come to an abrupt stop. This would go on for several minutes and then he would give up. If older neighborhood kids were outside we would sometimes have one of them sit in the passenger seat and push the gas pedal while Austin drove.
Like I said before, it was as if he had been thinking about it and knew exactly what he needed to do to finally be successful. He hopped in the jeep, let Daddy strap on his seatbelt and he was off. Success!!!
He was so proud of himself. Fortunately, we live in a cul-de-sac so he had plenty of room to drive around. His steering isn't perfect yet, but that certainly wasn't getting him down.
Sunshine, success, and pure joy... the makings of a beautiful day!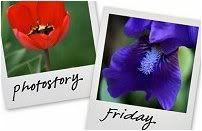 Hosted by Cecily and MamaGeek