"Psssst!! Hey... Susan's laptop."
"Yes, Mark's laptop, what's up?"
"Do you think Mark and Susan are going to do their regular movie night tonight?"
"I don't know. Honestly, why do they even bother. I mean, you know what it is like."
"Tell me about it. They put in their weekly Netflix DVD, sit down on the couch and open US up."
"Right! The movie starts, they watch for a few moments and then from there, they are barely even paying attention."
"Do they realize that they could watch a movie much faster if they would just watch it? Seriously! They stop and rewind at least a handful of times in every movie because they realize they have missed something integral to the plot line."
"What does Mark do with you while he is supposedly watching the movie?"
"It varies really. Sometimes he is working, sometimes he is browsing information on his dream cars, sometimes he is playing solitaire, but the best is when he is watching You Tube videos. How does he think he can reasonably watch two videos at one time? What does Susan do with you?"
"Well, she is usually about all things blogging. Reading blogs, commenting on blogs, writing posts and editing pictures for future posts. I am convinced she really only listens to the movie."
"It is ridiculous isn't it? They need help. Some kind of intervention or something."
"I'm flattered by all the attention I get from Susan, but I really do think she might be addicted to using me."
"I wish there was something more we could do for them. It is just sad to see them this way!"
"Well, we could crash or something drastic."
"Bite your space bar!"
"You're right. Let them keep pretending to have their special movie night. We can always..."
"Shhh! Here they come. Sleep mode now!"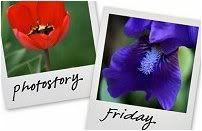 Hosted by Cecily and MamaGeek