Last Saturday, in between rain squalls, Austin agreed it was time to send his binkies off to the Binky Fairy.
Well, he may have been more excited about the present than relinquishing his binkies, but nonetheless the binkies were going.
We had been prepping him for days and he was ready. Of course, we hadn't counted on the nearly constant rain. But, shortly before the sun set there was a break and we headed out with his four binkies and six balloons to send them off.
I tied the binkies to the balloon ribbons and immediately knew we had a problem. The binkies were an effective weight to ground the balloons. I removed one. Plunk! Right to the ground. I removed another one. Same story.
I looked at Mark and asked him what we were going to do if six balloons wouldn't even raise one lone binky. He shrugged and said, "I don't know try again tomorrow with more balloons." No way! The current balloons would be deflated by then and I would have to go and waste even more money on balloons.
I was determined to make it work.
I removed another binky, leaving one, and prayed that it would float.
Float would be a loose term for what was happening when one binky was tied on. I looked at Mark and he just shrugged. Thankfully, during all of this time Austin was busy stomping in puddles and didn't realize that we had thrown the other binkies in the trash. We decided to pray for a breeze and release the balloons from the top of our hill.
Shortly after releasing them they were hovering, though moving, just a few feet above the grass.
Austin took off after them saying, "Uh oh! I get em Mommy, I get em." We were cracking up laughing at our luck. Our plan was failing miserably! Austin was chasing the balloons and was only a few feet from catching them. What would we tell him if we couldn't get this to work? I was sick of the guilt I was feeling over the fact that he would be three in a few months and was still using binkies to get to sleep.
Suddenly, God heard my prayer and a lovely breeze swept through.
Up went the balloons and one little binky. Austin waved bye bye and cheered the balloons to go higher.
Success!!!
Well, until that wind died down and the balloons started heading for the tree line. Mark pointed out the potential for disaster and I quickly called Austin to come back up the hill to distract him. When he reached the top of the hill the balloons were about to find a new home.
I pointed high into the sky so that he wouldn't see them get stuck in the trees. I told him to tell the Binky Fairy to take good care of his binkies and send him a good present. He asked for tractors, waved to the sky and went back to playing in the puddles.
That night he did fine. He didn't even ask for a binky. Though it took him a little longer to fall asleep, he didn't shed a tear. I anticipated a much harder time, but it was no problem.
In the morning, he found a note attached to a gift outside his bedroom door. It read
Dear Austin,
Thank you for sending me your binkies. I will take good care of them.
Hope you enjoy your present.
Love,
The Binky Fairy
In the box were a few new miniature John Deere tractors that he had been eyeing at Target. He has played with them non-stop since then. He now sleeps with tractors instead of binkies. What a relief!
This morning I went out on the deck to check on the balloons. Yep, still there nearly a week later.
However, thanks to some very windy weather today, this afternoon they were finally gone. Whew!!!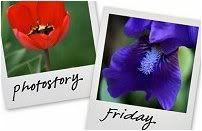 Hosted by Cecily and MamaGeek