Austin and I love to play a version of I spy when we are in the car. Either he, or I, will name something as we are leaving, and for the remainder of the drive we try to spot as many as we can. His favorite thing to look for is tractors. Thankfully, they can be "tractors" of any variety including riding lawnmowers, otherwise we would likely not spot very many.
He is really in love with all things tractor related and his favorite thing is when the field below our house, that surrounds our development, is mowed. Because, this is what mows the field.
It takes hours for the tractor to mow all of the open space around the community, and that is exactly how long Austin would happily sit there and watch.
He watches it come and go.
It used to be when the tractor was out of sight, he would cry. Now, we talk about listening for the sound of the tractor coming closer so that he will know when he is about to see it again. He waits and listens, often asking, "You hear that Mommy? Where is a tractor?"
Every time he sees the tractor coming it is like the first time. He jumps up and down and says, "Look Mommy a tractor, a tractor!!"
The guy who drives the tractor has noticed that Austin stands on the deck and watches him. He waves to Austin every once in a while and that is definitely the icing on the cake. It makes me laugh when he tells me "the farmer" waved to him. I guess in his mind, if you drive a tractor, then you are a farmer.
He has actually gotten to sit in the tractor before. Our neighbors, whose family owned the farm the development was built on, still live in the original farmhouse. The tractor is stored in their barn. They have a son a little younger than Austin and he is equally tractor obsessed. One day the dad let Austin sit in the big tractor and then took both boys on a ride on his little tractor, otherwise known as a riding lawnmower. He told me that one of these days he will arrange for Austin to get to ride with his friend who does the mowing of the fields. That will be the highlight of Austin's year.
But, for now, he enjoys the simplicity of watching and listening for the tractor.
It is truly one of his favorite things and brings him pure, simple joy.
I know that when he goes to sleep at night he dreams of...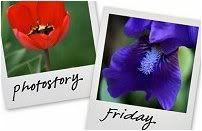 Hosted by Cecily and MamaGeek