Last Friday we were in the middle of a nasty heat wave. Fortunately for Austin, we had planned to go to visit Grandma and play with the little boy she watches on Fridays. She had set up the baby pool and some other fun outdoor things for the boys to play with.
Keith is 4 and Austin is 2.5. They had played together a couple times before but Austin was always just a little young for them to really have fun together. That all changed last Friday.
They played in the warm water of the baby pool for a little while, but then found much pleasure in kneeling on the sides and letting the water flow out into the grass. When the pool was nearly drained they realized that it wasn't going to be much fun to play in it anymore. As soon as they started to complain Grandma went and got the hose. There was a watering attachment that the boys deemed the "shou-wa." They were both running around saying, "need a shower, need a shower."
It was
cold
water. And, with the intense heat and humidity, the water made them shiver, giggle and feel relief, all at the same time.
Then Austin decided he wanted control of the "shou-wa" to drench his new friend.
A great time was had and by the end of the afternoon both boys were
absolutely
exhausted.
We are headed over to Grandma's again today so that the boys can play together. I am sure another great day of fun is in store.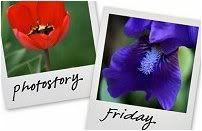 Hosted by Cecily and MamaGeek