Over the weekend I had to go out and buy teethers for Mia since she is apparently going to get teeth much earlier than Austin. I knew that Austin would view the teethers as toys for Mia, so I allowed him to choose one inexpensive item. He chose Backyardigans bubbles. He likes the Backyardigans because they sing and dance and one of them is named Austin. Of course, Austin was not one of the characters on the bubble wands, but he wanted them nonetheless.
He carefully selected a wand, determined that he would be successful blowing bubbles. We blow bubbles in the bathtub so he had some practice, but these were very small wands with very small holes to blow bubbles through.
Initially he only managed to spit or get it too close to his mouth.
Then he finally managed to get a bubble or two to fly.
He carefully examined the "bubble juice" in the opening. He really wants to hold the bubbles and doesn't understand yet that he can only hold them when he is in the bathtub and is soapy.
He finally asked me to blow the bubbles and I unloaded them on him as he giggled.
He then chased after the bubbles trying to catch them.
Finally, he danced in the bubbles with his daddy.
He really enjoyed his bubble time.....and so did we!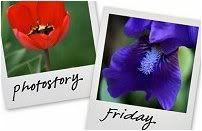 Hosted by Cecily and MamaGeek